The sperm analysis is the most widely used study around the world related to male fertility. This simple examination provides a broader view of reproductive capacity in men and allows for a first impression of diagnosis and evaluation of the achievements of medical and surgical treatments (vasectomy – recanalization) performed during an assisted reproduction treatment.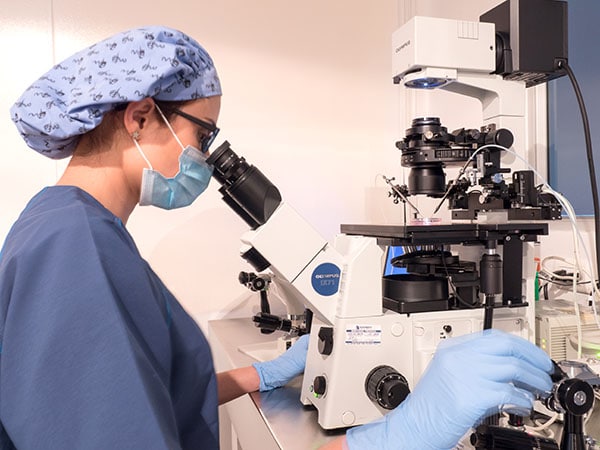 A sperm analysis is the initial examination in the male fertility study. The production of sperm in the testicle and its presence in ejaculation fluctuate according to factors such as the number of days of sexual abstinence, the use of some medications, high fever, exposure to environmental toxins, among others.
This study evaluates the physical aspects of sperm such as volume, PH, viscosity, color; It also analyzes the number of spermatozoa, their mobility, morphology and vitality. Additionally, it provides valuable information on the presence of other cells such as macrophages, lymphocytes, leukocytes, bacteria and fungi, which depending on their number, can be an important cause of infertility.
To get tested, the man should take a sperm sample by masturbation in a suitable container to be delivered to the laboratory.
It is important that the sperm analysis procedure be performed with conditions that represent the health and basal activity state of the individual. To minimize variables in the sperm analysis, the recommendations established by the World Health Organization (WHO) should be followed.
An abnormal result in the sperm analysis does not necessarily indicate a health problem. This result must be confirmed with a second examination after 20 days of the first.
Absence of alcohol intake for at least four (4) days.
Sexual abstinence greater than two (2) days and less than seven (7).
No disease or medication intake for thirty (30) days.
The sample can be taken at home, considering that the time between it (ejaculation) and its processing should be less than one hour. The sample must be taken by masturbation without preservative or lubricants.
The sample must be collected in a non-toxic plastic container, previously heated to body temperature (InSer will provide the container), labeled with the date, name and surname.
Volume: 1.5 ml or more.
Sperm concentration: 15 million spermatozoa/ml or more.
Mobility: 32% or more fast and slow motile sperms (type A + B).
Morphology (normal appearance): equal to or greater than 4%.
Vitality (live sperm): 58% or more live sperm.
The sperm analysis is the first step to be informed of your reproductive health in the face of parenthood.
Contact us:
Medellín: +57(4) 268 80 00
Bogotá:  +57(1) 746 98 69
Cartagena: +57(5) 693 04 34
Pereira: +57(6) 340 17 09
WhatsApp: +57 316 3033866